On 27 May the Construction Logistics and Community Safety – Australia (CLOCS-A) Steering Group (SG) held a virtual planning workshop to build on the 2020 webinar Adapting United Kingdom's Construction Logistics and Community Safety (CLOCS) Initiative to Australia and the establishment of the CLOCS-A Memorandum of Understanding.
The workshop brought together nearly 50 diverse stakeholders all passionate in adapting world's best practice CLOCS to Australia. Attendees ranged from Australia's major infrastructure projects, transport industry, cycling groups, researchers, peak associations, and local, state and commonwealth government representatives. The stakeholder diversity is crucial and was identified as a crucial success factor by Transport for London (TfL) who developed CLOCS.
The purpose of the planning workshop was to share different views on how to achieve the common objectives of CLOCS-A, which seek to:
Reduce fatal and serious road related injuries in relation to construction projects
Enhance the efficiency and productivity for industry
Make life easier for all stakeholders
Begin building solid foundations for CLOCS-A
To highlight the diversity of attendees, a question posed to the group to help set the scene was "when using the road system in cities what scares you the most"?
The word cloud highlights the diversity of views and importantly underpins the purpose for CLOCS-A.
Establishing the CLOCS-A Foundations
CLOCS-A will first identify what already exists in Australia to ensure there is no duplication and then building on it. The development of the standard will also adapt the best practice elements and learnings from CLOCS UK through the support and sharing from TfL.
The approach is not about allocating blame to any single party, but rather, recognising that people make mistakes when on the road and we all have a part to play in both preventing and minimising harm and the impact of road trauma from our construction transport and logistics activities.
In road safety this is the application of the Safe System, Vision Zero and Shared Responsibility which make up the key principles underpinning the National Road Safety Strategy.
There is huge opportunity for CLOCS-A to draw on local knowledge as identified by the Australia Road Research Board's CLOCS-A Draft guidance document and the tools and approaches developed for Victoria's Major Transport Infrastructure Authority and Sydney Metro.
As part of the workshop, attendees completed a SWOT Analysis in relation to CLOCS-A and were asked to consider each element from the view point of different stakeholders, such as truck drivers, pedestrians, cyclists, construction contractors, transport operators, etc.
Strengths
Weaknesses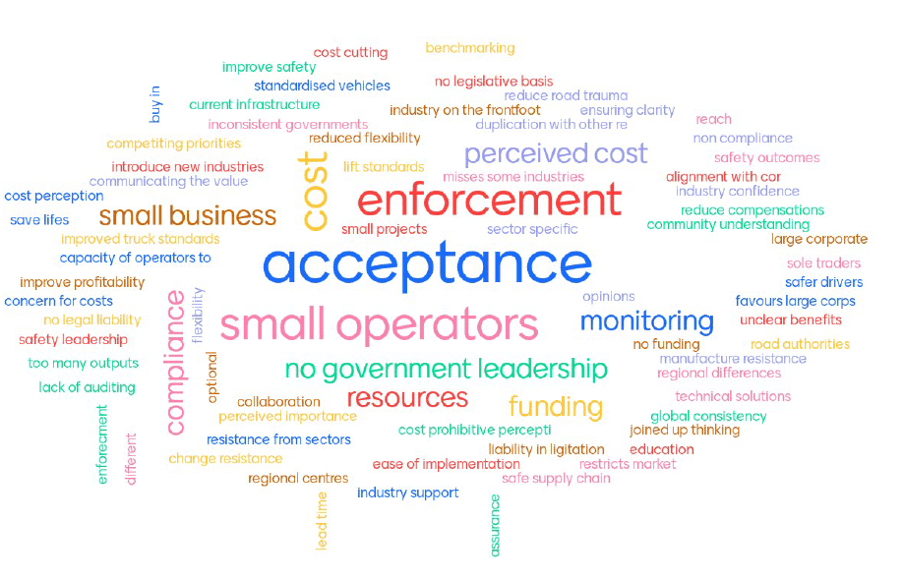 Opportunities
Threats
CLOCS-A Technical Groups
To assist in developing and operationalising the CLOCS-A standard, five technical groups will be established, four met as part of the workshop and the fifth's purpose is to consolidate work they produce. The Technical Groups include:
Safer Vehicles, chaired by Michael Chan of Victorian Department of Transport and will identify what safety features should be included on trucks to align with CLOCS and protect vulnerable road users. The technical group will create an implementation pipeline of technologies over a 10-year period. Key findings include:

There are a number of heavy vehicle safety features that will benefit vulnerable road users and the driver
Opportunities to create a pipeline process for vehicle technologies specific to this sector helping industry know what will become a "must have".
Maintenance program must be in place to ensure  road worthiness.

Driver Requirements, chaired by Amelia Cavanagh – Amy Gillett Foundation (AGF) and will identify the complexities relating to driving a truck in an urban environment that is servicing construction projects. Once these risks and mitigations are understood, the Technical Group will explore how to engage truck drivers to establish low risk behaviour. Key findings include:

Driver training and competency standards will aim to focus on providing drivers with the knowledge, skills and empathy to share the road safely with vulnerable road users and based on the Safe System approach
Driver standards are being guided by local and international best practice programs such as Amy Gillet Foundation's Sharing Roads Safely program and the UK's Fleet Operator Recognition Scheme's Safe Urban Driving Course
Key to the success of the CLOCS-A technical group and development of comprehensive training and competency standards is having diverse representation from industry, government and road user groups

Logistics Operations Requirements, Chaired by Dr Kim Hassall – CILTA and will explore how to efficiently and safely manage the movement of trucks on and off major construction sites. Key findings include:

The project initially, after being awarded, needs to bring together the major construction parties with client management and senior construction logistics management so the operations side of the project are well understood before field level operations begin. This involves all parties knowing the intricacies of the contract especially down to the logistics and operational requirements. It is where the client (the purchaser) can inform/instruct the contractor's management, planning, operations and logistics management team so there are no misunderstandings in contract interpretation.
Not only at the macro project level, but also at the lower planning levels a diverse range of plans need to be developed.

Communications Engagement and Advocacy, chaired by Melissa Weller – ATA and will engage with all road users' groups, in particular vulnerable road users, to help them share the responsibility for safe interactions with construction related vehicles. Key findings include:

Communications of CLOCS-A is a key central tenant of the Standard in that it brings together many diverse stakeholders groups that are often in "conflict" on the road system and builds mutual understanding. Lots of campaigns and content exist, it's about harmonising and consistency of messaging towards building better understanding between these different interest groups.
CLOCS-A partners have broad established networks which can be utilised to engage interest groups to measure their understanding and concerns in relation to CLOCS-A related operations and impact over time.
Communications will assist in the evaluation of CLOCS-A over time through public reporting on benefits, impact and member experiences.
CLOCS-A Governance Structure
The SG goal for CLOCS-A is for the standard to be overseen through a light touch approach drawing on local learnings. As an example the NRSPP has developed a case study on the Safe Load Program which can help inform the governance and operational approach of a similar industry program and application of a standard.

Next steps
The NRSPP as the current Chair of the SG submitted a proposal to the National Heavy Vehicle Regulator (NHVR) Heavy Vehicle Safety Initiative (HVSI) Round Six to fund the implementation of CLOCS-A. The virtual workshop was seeking to establish the stakeholder buy-in and foundations to take CLOCS-A forward should the application be successful.
CLOCS in the UK has demonstrated the following impacts and the SG goal is to use the national $200 billion infrastructure construction pipeline to establish CLOCS-A and achieve a similar impact locally.
Acknowledgments
CLOCS-A is being driven by the SG which consists of the following amazing passionate people who are contributing their in-kind support to establish the standard in Australia.
Amelia Cavanagh – Amy Gillett Foundation
Chris Loose – Truck Industry Council
Greg Dikranian – Transport for NSW
Ian McLeod – Major Transport Infrastructure Authority
Jerome Carslake – NRSPP
Kim Hassall – CILT-A
Martin Toomey – ARTSA-i
Melissa Weller – Australian Trucking Association
Michael Chan – Victorian Department of Transport
Michael Holmes – Sydney Metro
Patrick Trowse – Bicycle Queensland
Peter Binham – Transport for London
Sharon Newnan – MUARC
Tia Gaffney – ARRB