Buying a newer, safer car can be costly, especially for young drivers.
Young drivers are over-represented in road trauma data – and that's why the unsafe2safe trial program to help young drivers access safer vehicles is really important.
Under unsafe2safe, up to 1000 eligible young, regional Victorians will receive a $5000 subsidy to purchase a newer, safer vehicle from a participating dealer. The sale price of the vehicle must be capped at $30,000. Selected participants will be invited to trade in their existing older, unsafe vehicle, which will be scrapped and permanently removed from Victorian roads.
The safety of your car makes a difference in the event of a crash and may even help avoid one altogether.
Phase one of the trial began in Bendigo and Ballarat, but now in phase 2, they are expanding and looking for:
Participants from right across regional Victoria.
Participants aged 18-25 years old because drivers are at the greatest risk of being involved in a crash in their first few years or solo driving, and the data tells us that young regional Victorians who drive old, unsafe cars are 15 times more likely to be killed in crashes compared with the state average.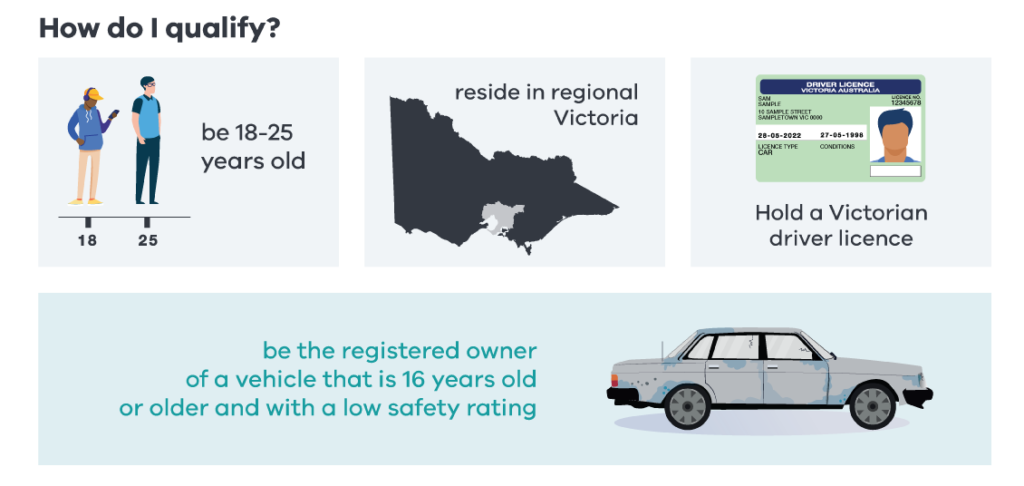 This trial will help to deliver on the Government's commitment to reducing road trauma and putting us on a path to zero road deaths by 2050 under the Victorian Road Safety Strategy 2021-2030.
Applications for the trial open on 10 August 2022, and close on 4 September 2022.
Apply for the unsafe2safe trial 
here