Link: https://www.9news.com.au/national/2018/05/17/12/49/child-car-seats-review
The best and worst child car seats on the market have been revealed following crash testing by road safety experts.
Parents are being urged to heed the new ratings, ranging from one to five stars, when choosing a new seat for their babies or kids.
The NSW Centre for Road Safety and the NRMA teamed up to measure crash protection performance and ease of use of 13 popular models of seats.
While all complied with the minimum Australian Safety Standard, they varied widely in the quality of protection they provided.
The Child Restraint Evaluation Program included three simulated crashes: frontal, side and oblique impact tests at the Crashlab in Huntingwood.
The rear-facing Nuna Klik scored a maximum five stars for protection, followed by Safe-N-Sound Kid Guard Pro, which scored four stars for both protection and ease-of-use.
At the other end of the ranking, six seats received just one star, including Maxi-Cosi Citi (rear facing), Max-Cosi Luna (forward facing), Babylove Cosmic 11 (forward facing), Infa-Secure Luxi 11 (forward facing), and Infa-Secure Grandeur Treo (forward facing).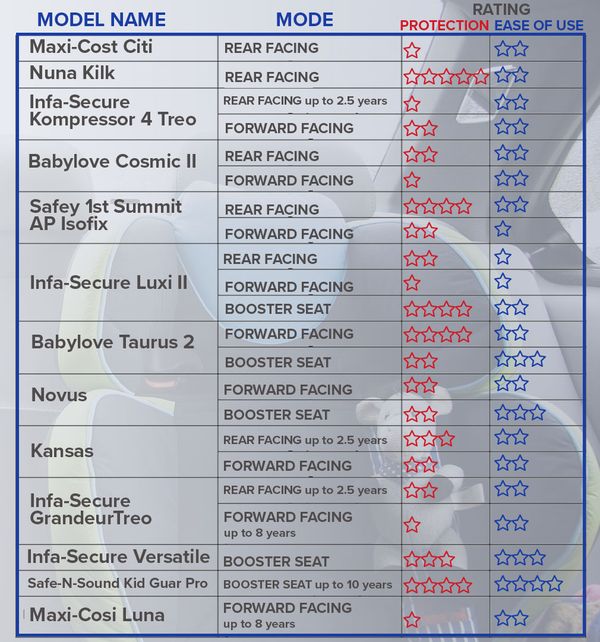 Despite the protection ratings, the seats were also tested on their 'ease of use' – for which not one of the models received five stars, with more scoring just two.
Roads Minister Melinda Pavey said the new star ratings will help to remove confusion for parents.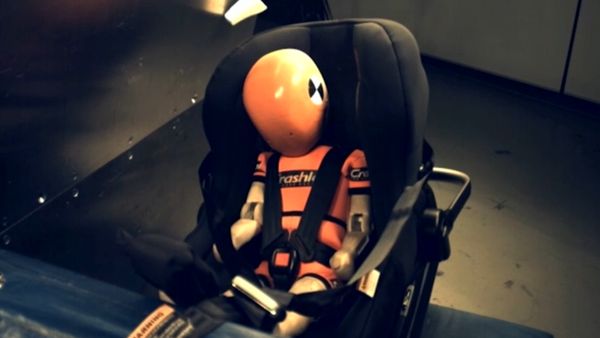 The Child Restraint Evaluation Program included three simulated crashes.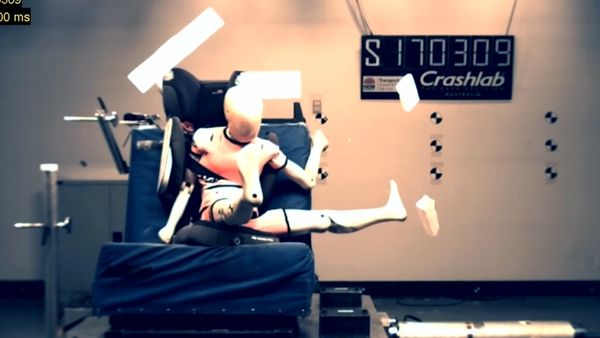 The crash tests applied the same amount of energy that would be experienced in a fall from a five-storey building.
"It gives them a really good set of information – a set of tools – to make the right the decision about what they think is best for their children and their car," Ms Pavey said.
NRMA road safety expert Dimitra Vlahomitros said a concern was ensuring the seats were installed and used correctly.
"You need to check it every day… you need to make sure those straps are correctly fitted, its buckled in correctly," Ms Vlahomitros said.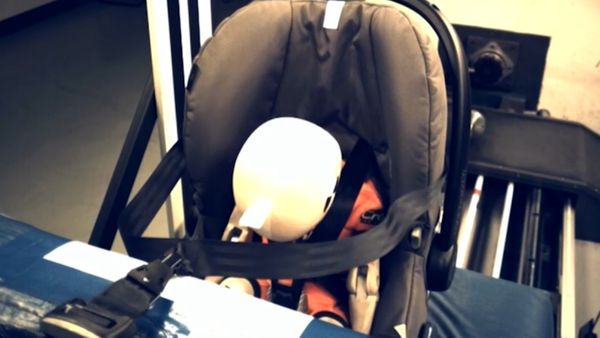 Rating system ranges from one to five stars.
"If those vital things are missing it may not do what it's supposed to do and that's to keep children safe."
Full information on ratings and restraint fitting stations can be found at childcarseats.com.au
© Nine Digital Pty Ltd 2018