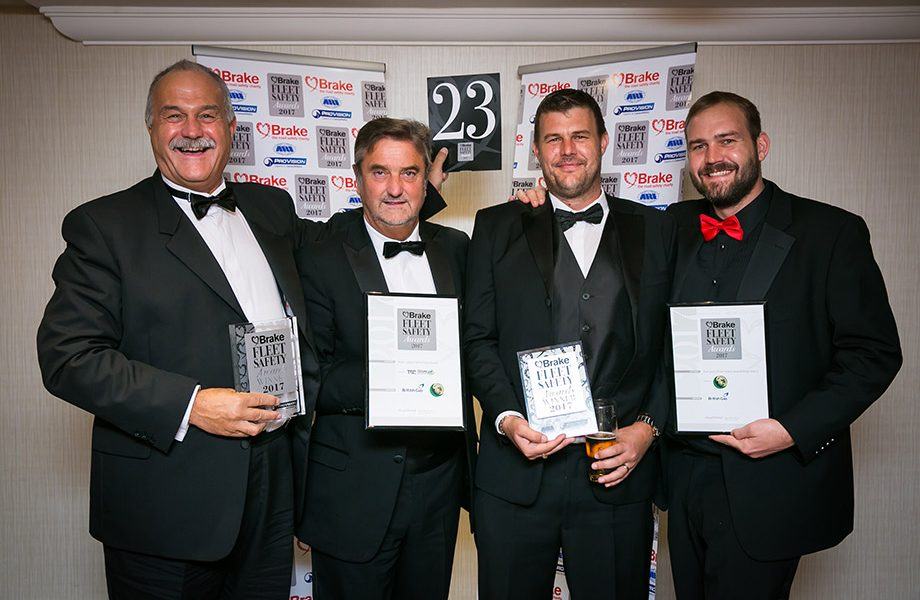 Brake, the road safety charity has announced the details of its fourth annual Australasian Fleet Safety Awards. The charity is inviting awards entries from fleet operators and suppliers working to reduce the number of road crashes involving at-work drivers. The deadline for entering is Friday 15 June 2018 and the winners will be announced on Thursday 11 October at a reception in Auckland.
Brake's Australasian Fleet Safety Awards recognise the achievements of organisations and individuals working in the field of road risk management. The 2017 Award Winners included DHL and MiX Telematics, AA Driving School – Fleet & Business and Competenz.
There are two new award categories in 2018: the Road Safety in the Community Award, for organisations that have worked with their community to improve road safety for all road users; and the Sustainable Journeys Award, for organisations that have reduced risk and fuel emissions by introducing sustainable travel measures.
The awards are free to enter and will be offered in the following seven categories:
Company Driver Safety
Fleet Safety Product
Road Safety in the Community
Safe Vehicles
Sustainable Journeys
Road Risk Manager of the Year
Outstanding Commitment to Road Safety
Visit the event website, www.fleetsafetyawards.com/australasian-awards, where you can find out more details and download an entry form. Alternatively, contact Brake on +64 (0)21 407 953 or [email protected] for more information.
To see a full list of last year's Award Winners, click here.
Caroline Perry, Brake's NZ director, says: "The Fleet Safety Awards are a fantastic opportunity for companies to gain recognition for the hard work they do to reduce incidents involving at-work drivers. This year we're delighted to introduce two new categories, recognising organisations' efforts to help the environment and communities as well as reducing road risk. The awards are entered by a range of fleet operators and suppliers and I'd urge any organisation successfully managing their occupational road risk to enter and help make the Fleet Safety Awards 2018 the biggest and best yet!"
The Awards are part of Brake Professional, an initiative by Brake, the road safety charity for fleet professionals aimed at sharing best practice in road risk management. Anyone involved in managing at-work drivers, and suppliers to fleets, can join the low-cost membership scheme to gain access to best practice information through webinars and seminars, online and downloadable tools for managers and drivers. To find out more visit www.brakepro.org.
About Brake
Brake is an international road safety charity. Its New Zealand division promotes road safety and campaigns against the carnage on New Zealand roads. It is also fundraising to improve support for families bereaved and injured in road crashes. To support Brake, go to www.brake.org.nz. Support books for children and adults bereaved in road crashes are available for free to families by contacting Brake on [email protected] or +64 (0)21 407 953.
Road crashes are not accidents; they are devastating and preventable events, not chance mishaps. Calling them accidents undermines work to make roads safer, and can cause insult to families whose lives have been torn apart by needless casualties.