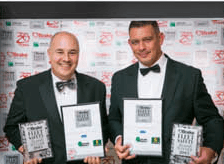 Brake runs its Australasian Fleet Safety Awards annually and invites safety-conscious organisations from New Zealand and Australia to enter. The awards recognise the achievements of those working to help reduce the number of road crashes involving at-work drivers. They celebrate and share best practice in managing road risk.
2017 Awards
The 2017 Awards are now open for entries. Entries are invited from organisations running any type of fleet, and from companies that provide products or services to fleets, who have worked to improve safety.
Key dates are:
Entries open: Friday 2 December 2016
Entries close: Friday 16 June 2017
Winners announced: Thursday 28 September 2017
Find out more about our awards categories and how to enter.
2016 Awards
The 2016 Award Winners were announced on Thursday 29 September 2016 at Brake's annual reception in Auckland, New Zealand.
Read about the 2016 Award Winners here, and our press release for media is here.
Interested in sponsoring an award? Find out more. Read about our confirmed sponsors.